After a more than two-year hiatus on international travel, we're all looking forward to a summer of unforgettable trips.
It's time to make up for time lost and experiences missed because of the pandemic.
With most of the world now open again for business… where should you go?
I put out a call to all Live And Invest Overseas editors, contributors, and correspondents… and here were their top seven recommendations.
This is our LIOS Bucket List For Travel In The Summer Of 2022.
Every one of these destinations is eager to welcome back visitors…
#1: Turks And Caicos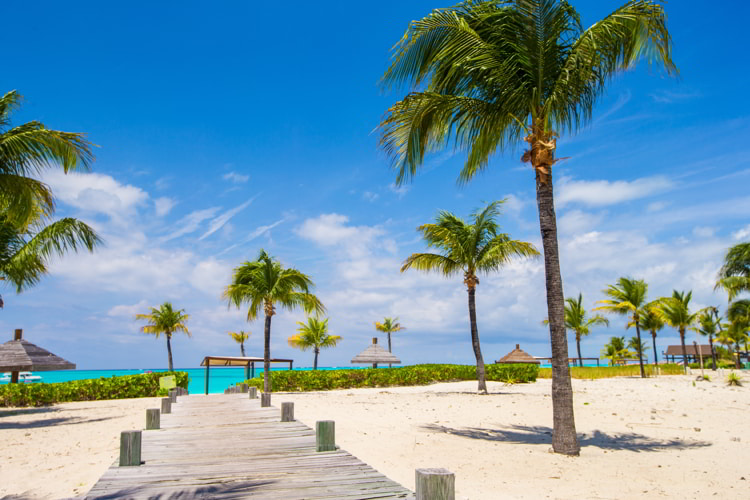 With powder-sand beaches, cerulean waters, and a vibrant coral reef offering spectacular diving opportunities, it's surprising that Turks and Caicos remains under the radar of most international travelers.
The string of sandy cays that makes up this British Overseas Territory floats quietly in the Atlantic Ocean just southeast of Florida. If you're seeking total relaxation on nearly deserted white-sand beaches, the Turks and Caicos are your ticket… and they're just a quick flight away from Miami.
The beaches alone justify a trip to Turks and Caicos (TCI). They're postcard-worthy: picture white sands lapped by electric-blue waters and nothing to interrupt your view.
TCI is a dream destination for divers, sport fishermen, and lovers of watersports of all descriptions. Just minutes offshore you can reel in blue marlin, sailfish, tuna, and wahoo… or maybe you'd rather spend your days paddleboarding or wind-, kite-, or parasailing…
Of the territory's 40 islands, only 8 are inhabited. Island-hopping in a small boat or yacht is an exciting way to discover some of the lesser-known islands. With the right permits, you could even sail between TCI and nearby countries, including the Bahamas and Cuba.
TCI is a place to pamper yourself in acclaimed spas and wellness centers… and to indulge in glitzy nights out in the casinos and five-star restaurants. This is a bona-fide luxury destination. In fact, it was named Luxury Destination of the Year at the 2021 Caribbean Travel Awards.
What Are The COVID-19 Entry Requirements?
To come to Turks and Caicos right now, you need to be fully vaccinated with two doses of an approved vaccine. As of this writing, booster doses are not required. You can prove your vaccination status with a digital or paper record.
TCI recently dropped some of its more onerous tourist-entry policies. You no longer need to apply for pre-authorization to enter via TCI Assured Travel, purchase travel insurance, or provide negative COVID-19 tests. Masks are no longer required, restaurants and bars are open without special capacity limits, and inter-island travel is allowed.
#2: Azores And Madeira, Portugal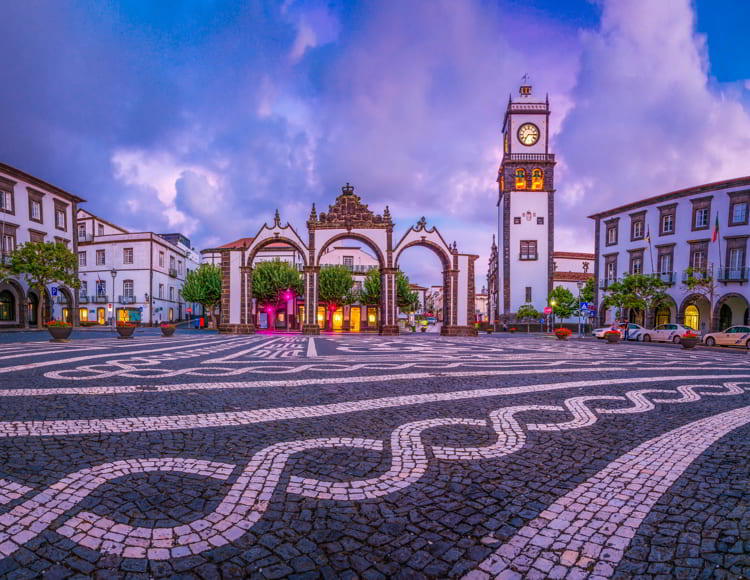 Most tourists to Portugal make a beeline for the beaches of the Algarve or focus their time in capital city Lisbon.
And we understand. As longtime Live And Invest Overseas readers know, we're big fans of both those destinations.
However, just offshore from mainland Portugal float two unique archipelagos that also deserve your attention: the Azores and Madeira. Both offer pristine landscapes, unspoiled nature, and adventurous travel experiences.
The Azores' natural beauty is jaw-dropping. Some have called the nine islands that make up the archipelago "the Hawaii of the mid-Atlantic." The islands were formed by volcanic activity centuries ago, and dramatic scenery dominates the landscape. There are sharp peaks and valleys sheathed in green as well as fine-sand beaches, lagoons, geysers, waterfalls, and thermal baths.
The Azores won the award for Europe's Leading Adventure Tourism Destination in 2021 and 2020. There are hiking tours, cycling, mountain biking, and canyoning available on land. Mount Pico, the highest point in Portugal at 7,700 feet, is found here, and you can hike to the top of it for outstanding views. Fishing, diving, yachting, and especially whale and dolphin watching are ocean-based highlights of the Azores.
Madeira, on the other hand, is known as "Garden Island" for its abundance of verdant vegetation and flowering plants that contrast delightfully against the surrounding blue of the Atlantic Ocean. Also formed by volcanic activity and featuring many points of elevation, spectacular scenery is a given here.
Madeira's Porto Santo and Seixal beaches were rated the best in Europe this year by European Best Destination. Natural and human-made pool complexes that are connected to the sea provide peaceful swimming opportunities and are found around the island.
No trip to this island is complete without a taste of its eponymous libation: Madeira wine. You can try the fortified wine produced only here at tastings across the island, including Blandy's Wine Lodge where you can learn all about the Madeira wine-making process.
The dollar's strength versus the euro makes this summer the best time in years to spend time in the eurozone.
What Are The COVID-19 Entry Requirements?
Madeira imposes no restrictions on visitors.
To visit the Azores, you'll need to show proof of vaccination, a negative test (either a 72-hour PCR test or 48-hour rapid antigen test), or a certificate of recovery from COVID-19 if you're arriving direct from abroad.
If you're arriving from the Portuguese mainland, you just have to meet the country's entry requirements. These are showing a vaccination certificate, proof of recovery from COVID-19, or a negative test (72-PCR test or 24-hour rapid antigen test).
#3: Kotor, Montenegro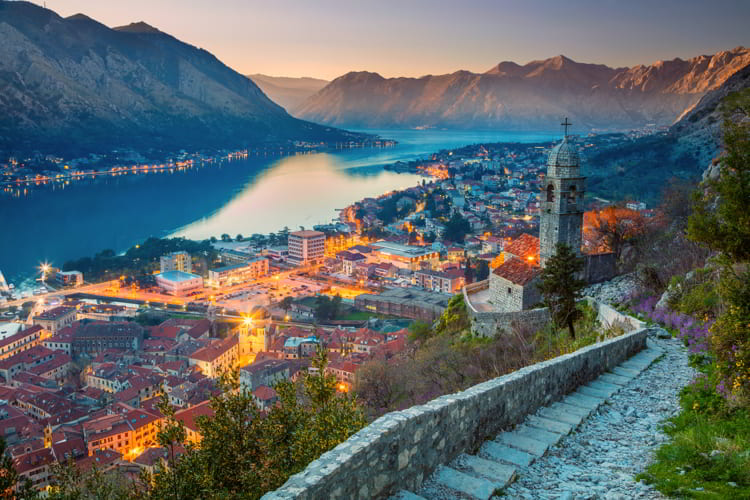 You'd be forgiven if you couldn't point out little Montenegro on a map. This tiny Adriatic country of a half-million people dispersed over 2,050 square miles (slightly less area than the state of Connecticut) is located in Southern Europe, nestled between Croatia and Albania.
What might draw you here, first and foremost, is curiosity. You've heard of the wonders of Croatia—a firm Live And Invest Overseas' favorite that's regularly counted among our top retirement havens. What lies in store, however, if you were to venture south of Croatia's borders?
To find out, start in Kotor, a fairy-tale, historical town surrounded by towering mountains on one side and the dazzling Adriatic on the other. The views are other-worldly.
Kotor delivers Old World European charm in spades. Its Old Town is a UNESCO World Heritage Site and widely considered the best-preserved medieval town in the Mediterranean with ancient stone walls marking the city limits on two of three sides.
The Old Town is chock-full of medieval architecture, narrow lanes, squares, markets, and historic sights. Of note is Saint Tryphon's Cathedral, built in the 11th century and one of the country's two Roman Catholic Cathedrals.
Kotor sits in one of the craggy inlets of the Bay of Kotor, one of the most indented parts of the Adriatic Sea. Its bay features two islands: Gospa od Skrpjela (Our Lady of the Rock) and Sveti Djordje (St. George), both steeped in local folklore.
Croatia receives hordes of tourists every summer. Montenegro, right next door, offers similar views and ambiance with less crowds. And it's more affordable.
What Are The COVID-19 Entry Requirements?
Montenegro has dropped all entry requirements related to COVID-19 and currently imposes no vaccination, testing, health screenings, curfew, or other restrictions.
#4: Ceará, Brazil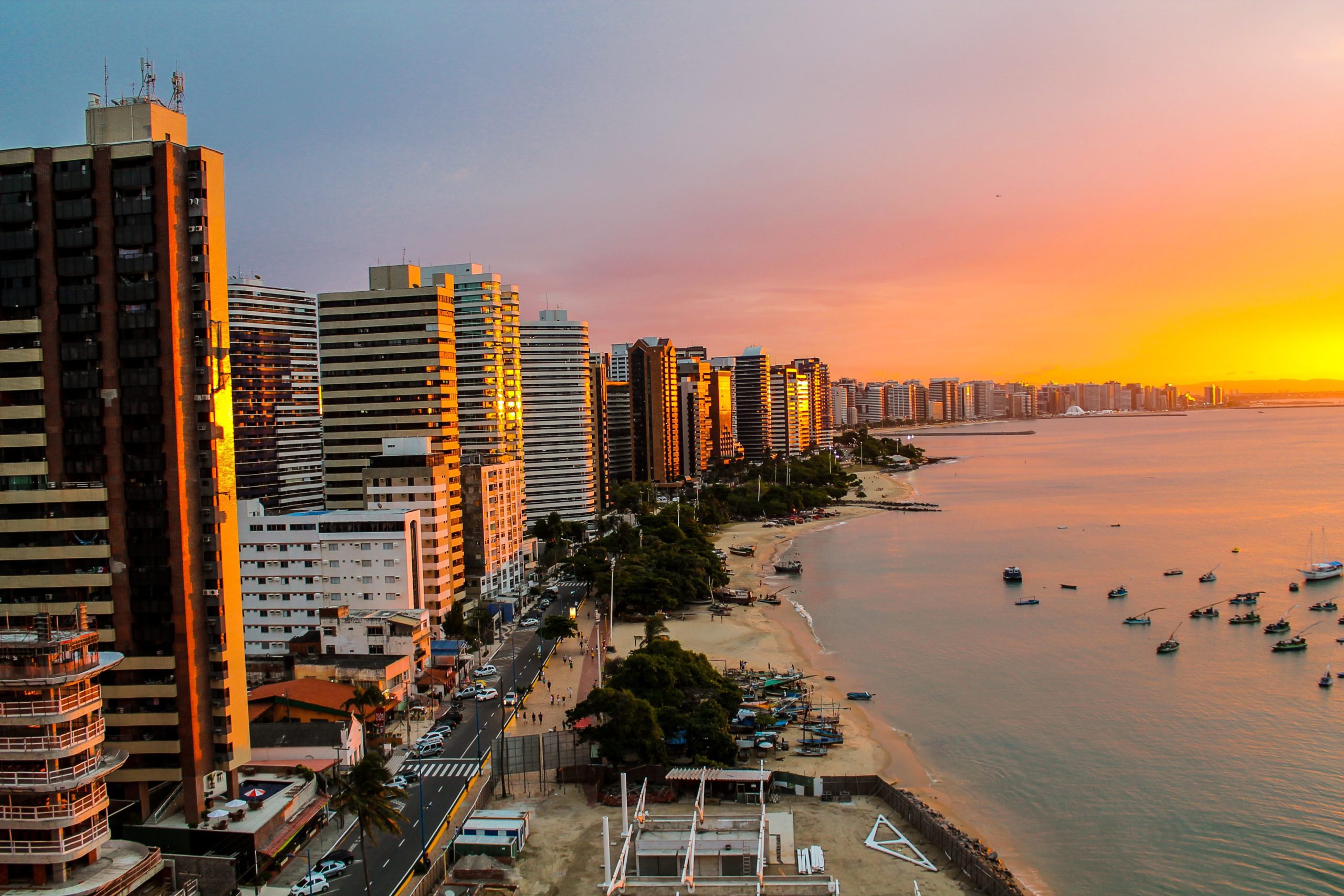 Long famous for its miles of golden-sand beaches, it's hard to imagine going to Brazil and not visiting such iconic destinations as Ipanema and Copacabana. But in the northeastern state of Ceará, the beaches are just as stunning… but without the crazy crowds and prices of Rio.
Brazil has almost 5,000 miles of coastline… but we rate the Ceará's 370-mile stretch as the best in the country. The beaches—glorious stretches of virgin sand, swaying palm trees, and otherworldly sand dunes—are precisely what make Ceará one of Brazil's top domestic tourism destinations.
The beaches range from city beaches with first-rate amenities to isolated outposts where you're the only person for miles. There are peaceful bays with gentle waters and exposed strips great for ripping around while kite- or windsurfing.
The beating heart of Ceará's cultural activity is the city of Fortaleza, one of Brazil's biggest. Despite being home to almost 3 million people, Fortaleza remains a quintessential Brazilian beach town. Fishermen offer their daily catches from wooden tables set up along the boardwalk as they have been for decades. Men shimmy up trees on the city beaches to bring down fresh coconuts to sell for their water. All over the beaches, you see ever-active Brazilians playing volleyball and soccer and practicing yoga.
Ceará is developed for the domestic tourism market, meaning prices are low. Enhancing this, the U.S. dollar is notably strong against the Brazilian real. This means that everything from eating out to staying at a hotel or buying a beach home of your own comes at a significant discount.
What Are The COVID-19 Entry Requirements?
To enter Brazil as a tourist, you must be fully vaccinated. If you have a health condition that prevents you from getting vaccinated, you'll need to show a negative 24-hour PCR or antigen test before boarding your flight. No quarantine on arrival is required.
#5: Malta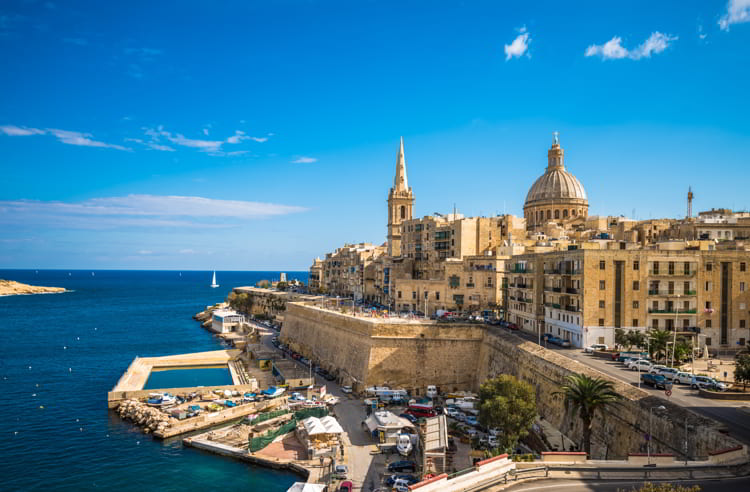 Malta is a string of small islands in the southern Mediterranean. One of the tiniest countries in Europe, it also has the tiniest capital. Valletta covers less than a half square mile… but what Superbissima (Latin for "Most Proud") lacks in size, it makes up for in style.
Valletta is a testament to Malta's rich history: It boasts historical treasures on the corner of every winding cobblestoned street. But this is also a modern European capital with great shopping by day and entertainment at night.
In 2018, Valletta was selected the European Capital of Culture, affording it a facelift and restoring many of its beautiful old buildings. Beyond the city, the gnarled, limestone islands of Malta, Comino, and Gozo conceal an impressive array of caves, scenic sunsets, and some of the most stunning harbors on the planet. Its rugged coastline boasts secluded bays, dramatic cliffs, and tiny coves dotted with ancient forts and quaint fishing harbors.
From the fabled shipwreck of Saint Paul to the legendary naval battles waged in its waters in World War II, Malta claims boatloads of nautical history. Today, though, the Ottoman galleys and British destroyers that once skirted the islands have been replaced by the peaceful, white triangle sails of pleasure crafts scooting by.
These waters are one of Europe's best sailing locales. With a near-perfect climate and a long sailing season, Malta works well as a sailing location both for experienced "salties" as well as those just starting out… not to mention all the other watersports to avail of here.
Because Malta ticks so many boxes—with its low crime rate, fantastic climate, and friendly locals—it is a country with broad appeal… quintessential Mediterranean Europe. And, notably, it's the only place you can experience the famed Mediterranean way of life among locals who speak English.
What Are The COVID-19 Entry Requirements?
To enter Malta as a tourist, you need to present a vaccine certificate, a recovery certificate, or a certificate of negative COVID-19 test result. This can be a 72-hour PCR test or a 24-hour rapid antigen test.
If you want to enter Malta but can't meet these requirements, you'll have to quarantine for 10 days and test negatively on the seventh day to be released from quarantine.
#6: Salta, Argentina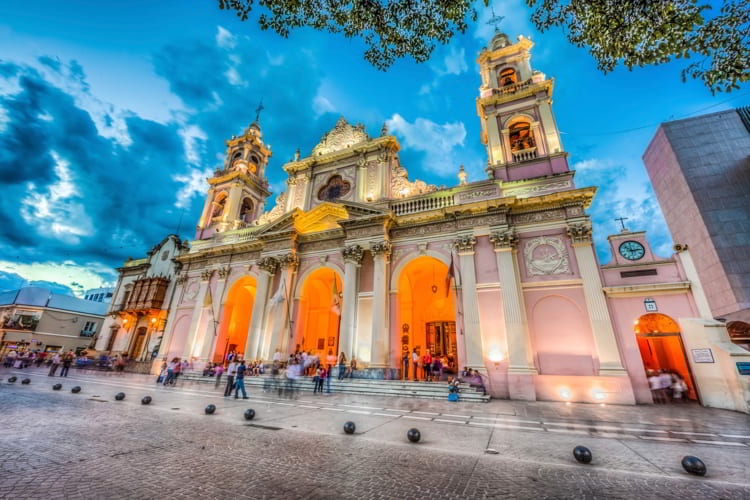 The trend, when it comes to tourism in Argentina, is to hit the hiking trails of Bariloche and southern Patagonia after spending some time in the country's cosmopolitan capital, Buenos Aires.
But there's another area of this country that deserves your attention this summer. Salta, a province in northwestern Argentina bordering Bolivia, Paraguay, and Chile, stands out for its incredible desert landscapes and Andean and Quechuan cultural traditions. This is a rugged region whose capital city, known as "Salta La Linda" (Salta The Pretty), is a cultural hub with a unique historic flair.
Any exploration of Salta Province should start in the city of Salta, the most Spanish-looking city in Argentina, with a well-preserved historic center of colonial buildings, squares, churches, and parks.
Attending a peña—a folk music concert—is a traditional experience you won't forget. These involve live music—Spanish guitars, drums, and violins—as well as dancing, and spectators are encouraged to clap and stomp along. More than just tourist entertainment, peñas are an important part of the local culture, reflecting the region's mixed Spanish and indigenous heritage.
Salta also offers delicious regional cuisine, a laid-back nightlife scene, theatre, markets, exhibitions, festivals, and more. Museums commemorating local history, art, and archaeology provide context for explorations further afield.
The start of summer in the United States corresponds with the start of winter in Argentina. While cold temperatures can be expected in the more-touristed southern parts of the country, Salta Province has pleasant weather year-round. From June to September, you can expect clear skies and temperatures of about 55°F daily, meaning you can take full advantage of all the outdoor attractions this part of the world offers.
If you're here at the start of August, you'll be in town for Pachamama celebrations, based in Andean mythological belief and celebrating Mother Earth.
What Are The COVID-19 Entry Requirements?
Argentina is not currently imposing any vaccination or testing requirements on tourists from the States. If you're not fully vaccinated, it's recommended that you get tested 24 hours before you arrive.
That said, all visitors will need to fill out an electronic statement within 48-hours of traveling in which you'll provide information about your vaccination status and whether you have any COVID-19 symptoms.
You'll also need to have medical insurance that covers COVID-19-related issues (hospitalization, for instance, or the cost of self-isolation or medical transportation) to enter Argentina.
#7: Caño Cristales, Colombia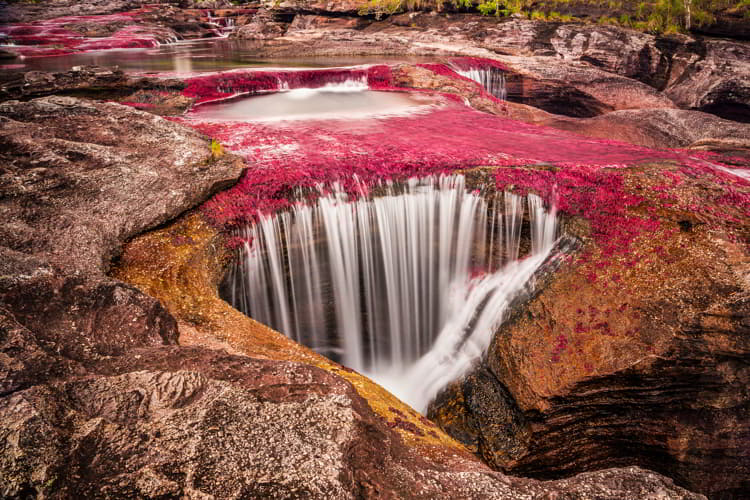 One of only 17 countries in the world that are considered megadiverse, Colombia is densely packed with natural riches. Perhaps the most mind-boggling is Caño Cristales, a river that's famous for flowing in vibrant and unexpected colors. Algae on the riverbed paints the waters yellow, green, blue, black, and above all, red, giving the river the nickname "The Liquid Rainbow."
Caño Cristales is one of the most unique travel experiences in the world. The breathtaking colors of the river can only be seen at specific times of the year, when the algae that create the hues are in bloom. You'll want to time your visit carefully and book with an experienced tour agency.
The river is in a sprawling area of jungles, rock formations, and countless wildlife species. Over 400 species of birds call the park home, and birdwatching kayaking tours can be arranged. You'll likely also spot a few monkeys along the way, and, if you're lucky, a pink river dolphin or two.
Now is the time to visit Caño Cristales because this is when the red algae that makes the river so colorful blooms. May through November is the official season, but July through October is the peak.
What Are The COVID-19 Entry Requirements?
To enter Colombia right now as a tourist, you need to fill out the "Check-Mig" form between 24 hours and 1 hour before departure and present the confirmation email on arrival.
If you're fully vaccinated, you can enter Colombia without any additional requirements. If you're not fully vaccinated, you'll need to show a negative 72-hour PCR or antigen test before boarding.
Bon voyage.
And happy Memorial Day weekend.
Sincerely,



Kathleen Peddicord
Founding Publisher, Overseas Opportunity Letter