If you're looking for the best day trips from Tokyo, this article will help you plan your vacation perfectly!
Tokyo is an excellent place to base yourself for exploring the surrounding area.
Japan's excellent transport network and rail passes mean that day trips are easy, convenient and cheaper than you might think. 
In some cases, it is possible to join day trips together to make 2 to 3 long day trips utilising some of the amazing regional rail passes available.
Often this can work out being cheaper than taking individual day trips.
READ MORE: Check out our list of the top things to do in Tokyo.
However if you have an active JR pass then you can utilise this for all of the destinations listed below.
Be sure to double-check which route you can use a JR pass on, although I highly recommend getting one. You can buy yours on the Klook website for the best price.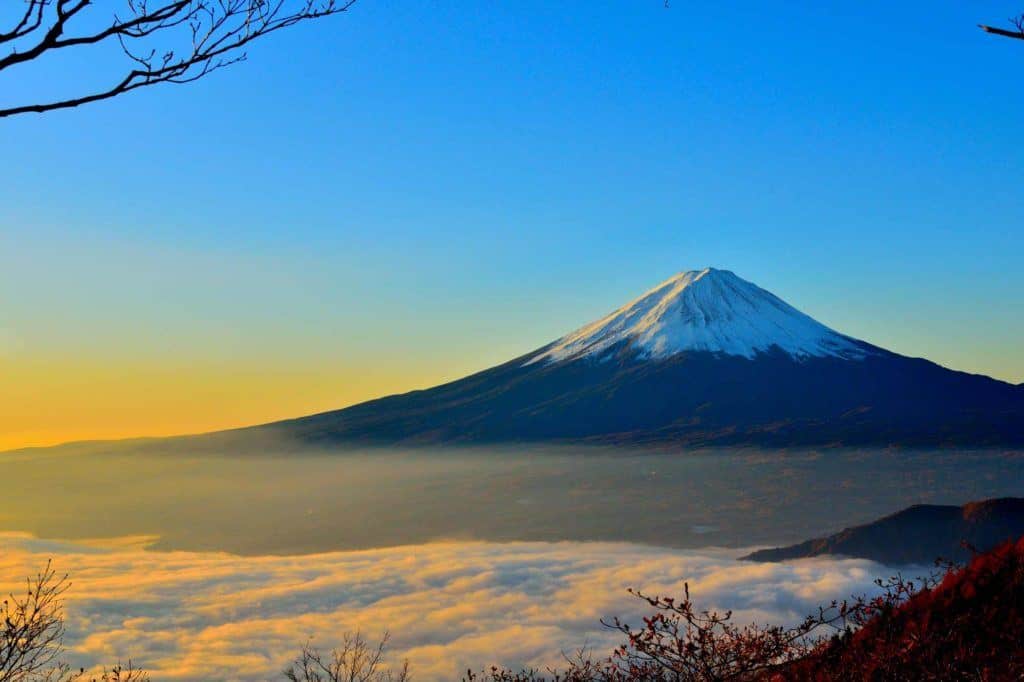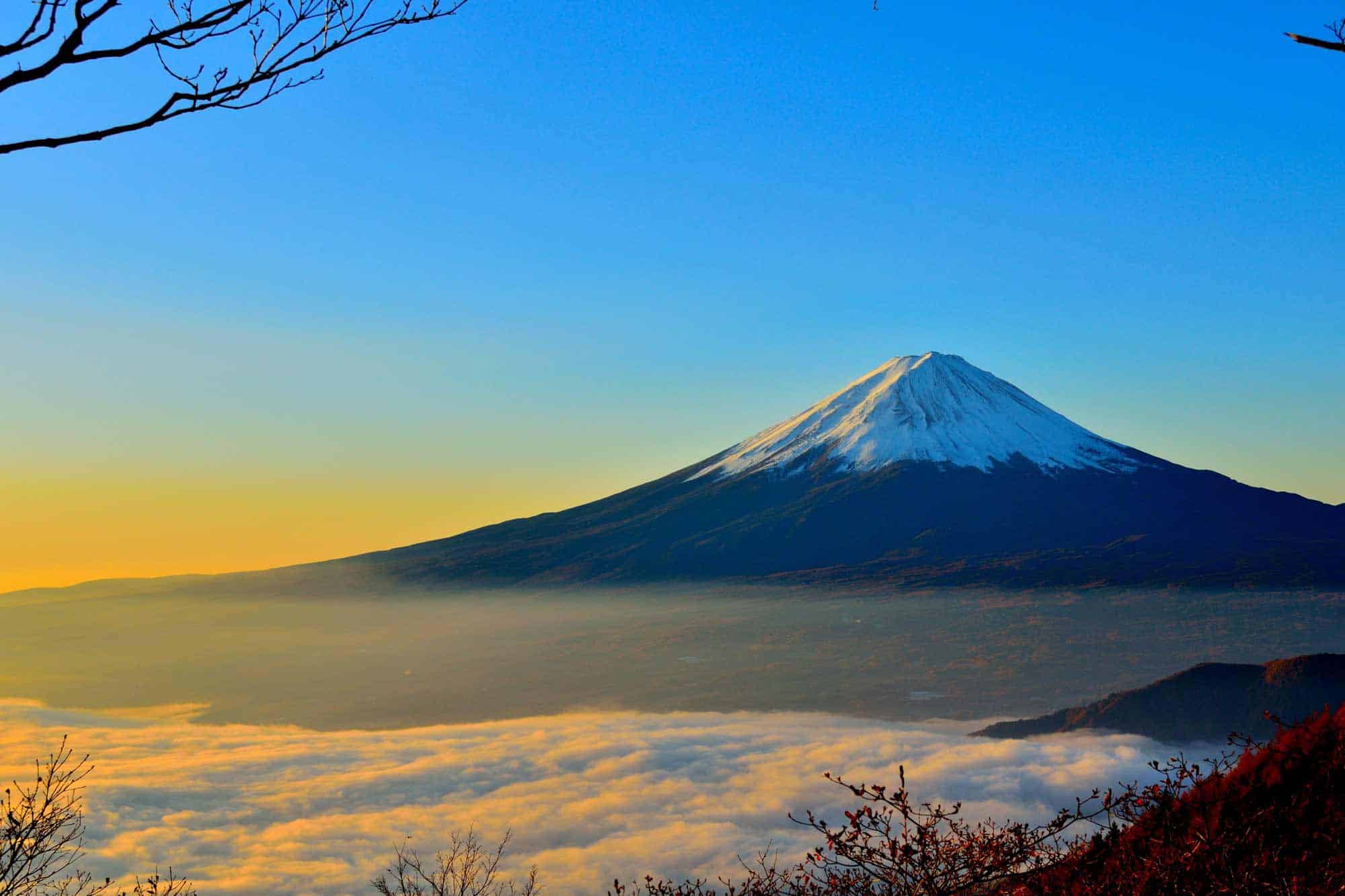 Best Day Trips From Tokyo
Without further ado, let me share with you the best Tokyo day trips to make the most of your time outside the city!
READ MORE: Don't miss our article on how to spend 3 days in Tokyo!
Mount Fuji
Probably Japans most iconic image; MountFuji's perfect cone on a blue sky backdrop.
This is the image many come for however, you are more likely to get clouds around here so check the weather forecast. 
A day trip to see Mount Fuji from Tokyo is one of the most popular day trips from Tokyo. 
It's also one of the easiest with direct buses running from Shibuya and Shinjuku. You can book on the day, but it's better to book in advance.
What is There to See and Do? 
Aside from Fuji, quite a lot actually. Naturally, Fuji is very much a centrepiece but it's not all that's on offer.
This is also one of the most popular day trips from Tokyo for tourists and locals alike, however with a lot to do it never feels that crowded (unless you're climbing in Fuji in peak season).
If you are looking to climb Fuji, as many people do in the summer, check the dates the trail is open.
As a warning, it is very popular, so do be aware that heading up to the peak may be similar to a rather long conga line. 
Things to see and do at Fuji are quite spread out, and as a result, it's worth planning what you want to do in advance to make the most of your time there.
The first thing to note is that unless you're climbing Fuji you really want to go to Fuji Five Lakes (Fuji-Goko).
This area is made up of, rather unsurprisingly, five lakes. There are numerous walking trails around these lakes.
The majority of transport options will take you to the largest lake Kawaguchiko, but there are a couple of buses that will take you further afield.  
The Chureito Pagoda has stunning views of Fuji on a clear day (sadly I did not have much luck).
To get here you will need to take a local train from Fuji Kawaguchiko to Shimoyoshida. From here it's a nice 20-minute or so walk. 
Kawaguchiko is the most easily accessible of the 5 lakes around Fuji. There are numerous trails and the ropeway taking you part way up Mount Tenjo can offer (weather dependant of course) excellent views of Fuji.
Mount Tenjo itself has a couple of hiking trails that go beyond where the ropeway takes you, as well as trails up and down the mountain itself.
Incidentally, there are a couple of deserted temples on the hike down from the ropeway station that are worth a look. 
Getting There and Away 
There are excellent bus and train options for getting to Fuji Five Lakes. The best bet depends if you have any kind of JR pass.
Buses are better if you don't have a rail pass with a one-way journey costs 1950 yen.
You can take buses from Shibuya or Shinjuku, however, Shinjuku usually has more buses leaving.
Click here to book. This is the way most will get to Fuji from Tokyo.
Taking a train is a little more complicated and more expensive unless you have a JR pass or a regional rail pass.
You will need to take the JR Chuo line to Otsuki and then take Fujikyu railway to Kawaguchiko.
Getting to Otsuki you can take the direct 70-minute train at  2500 yen one way or the 100-minute local for 1320.
From Otsuki the train to Fujikyu is 55 minutes and costs 1140 yen one-way.
Obviously, you will not have to worry about the price if you have either of the rail passes listed above.
In addition, you can get a 3-day rail pass that combines Fuji and Hakone. Certainly value for money, it just depends on the time you have available. 
Book a Tour
If time is an issue, or you'd prefer to let somebody else do all the thinking and planning for you, we recommend booking a day tour to Mount Fuji from Tokyo.
The one below is the best-rated tour you can book ahead of time on the internet and includes a comfortable coach transfer from Tokyo to Mount Fuji, a delicious traditional lunch and a visit to the Fuji Five Lakes.
Hakone
Hakone is famous for its lake, views of Fuji and onsens.
Situated in between Fuji and Kamakura it is possible to visit as a day trip or as part of a longer trip utilising some of the awesome train passes available.
These multi-day passes mean its more cost-effective to use a regional rail pass and combine visits to Hakone with Fuji or Kamakura.
READ MORE: Here's our list of the best places to visit in Japan!
What is There to See and Do?
Ashino-Ko is the centrepiece of Hakone with boat trips (often covered by regional rail passes) as well as a famous ropeway and some amazing Fuji viewing points.
There are also a number of art museums and short walking trails that make this place one of the great side trips from Tokyo.
The scenery in Hakone itself is particularly gorgeous and there are onsens galore that make for some awesome accommodation options. 
Getting There and Away
The train is the best option here. You can either use a JR pass, 2-day Hakone pass or 3 day passes combing Hakone and Kamakura or Hakone and Fuji. 
Book a Tour
Once again it's easy to book a tour from Tokyo to take away all the stress of figuring it our yourself.
This tour through Get Your Guide gets you out to Hakone's best attractions and includes an all-you-can-eat seafood lunch.
READ MORE: Don't miss our ultimate guide to travelling in Japan – Click here.
Kamakura 
This gorgeous little seaside town is one of the best day trips from Tokyo.
Whether you want to hike, temple hop or relax on the beach, Kamakura can accommodate. 
What is There to See and Do?
Temples and hiking trails are the main highlights, however there is a decent beach and the funky island of Enoshima to keep you entertained.
Kamakura itself has some awesome restaurants and cafes. 
Daibatsu is probably Kamakura's most iconic sight. The 11.4 metres high Buddha is very popular and naturally is one of the busiest areas in Kamakura.
However it is definitely worth a visit.
The surrounding area has a number of other interesting temples including the gorgeous Hase Dera Temple which overlooks the coastline and the town itself. 
Behind Kencho-Ji you can access the Ten-en Hiking Course.
This trail takes you up into the hills behind Kamakura and offers lovely views and some interesting temples en route.
The trail is clearly signposted and there are numerous ways to come down from the hills and back into the town itself. 
Another interesting sight is the Tsurugaoka Hachiman-Gu which is located at the end of Wakayama-Oji.
This is said to be Kamakura's most important shrine, dedicated to the Hachiman, the god of war. 
The area around the train station is home to numerous cafe's restaurants and little craft shops.
If you head north from the train station and essentially follow the train track there are a couple of lovely, deserted temples that are a perfect place to find that bit of zen that you may be craving.
Getting There and Away
Pick up a Kamakura Day Pass from the Odakyu private train line at Shinjuku station for 1470 yen.
This covers a return trip from Tokyo to Fujisawa and then enlisted usage of the Enoden and Odakyu railway lines between Fujisawa and Katase-Enoshima (Odakyu) and Fujisawa (Kamakura (Enoden). 
Depending on which train you get it can take anything between 1.5 and 2.5 hours.
Most of the time you will need to transfer once at Fujisawa (which is the end of the line) and then take the Enoden line to Kamakura itself. 
If you are planning on heading to Daibatsu and Hasedera first then you're better off getting off at Hase Station.
If the beach is what you're aiming for any of the stations on the beach should suffice. 
There is an Odakyu-Kamakura Rail Pass which allows you to combine a visit to Kamakura and Hakone.
In addition this pass covers transport in Hakone itself and offers discounts to some tourist attractions. 
Book a Tour
Another one of the awesome day tours from Tokyo on Get Your Guide, this one includes a trip to Kamakura with an English-speaking guide, and a chance to get dressed up in an authentic kimono.
Tokyo Day Trips for Hikers
Tokyo's surrounding area is blessed with some great hiking trails with many of them offering gorgeous views of Fuji on a cloud-free day.
The only rail pass option available is the 3-day Tokyo area pass. However it is 10,000 yen, so make sure you can get your money's worth! 
This means that some may end up being more expensive than some of the other trips suggested.
Alternatively, if you have an active JR pass then hikes in Yamanashi, Saitama or Tochigi prefectures may be far more accessible and cost-effective.
There are far more hikes than the ones listed below, I've focused on hikes that are nearer to Tokyo limiting travel time.
Here's what I recommend for hikers looking for awesome Tokyo day trips.
Hike Mount Daibosatsu
This beginner-intermediate level hike is one of many awesome trails in Yamanashi Prefecture.
There are two trails, both of which are just over 6 hours in length. Clear days reward you with stunning views. 
Getting There and Away 
From Shinjuku station, you need to take the JR Limited Express "Kaiji" train and get off at Enzan Station (塩山駅).
The train takes about 90 minutes and costs around 3500 yen, there are cheaper and slower alternatives available. 
From Enzan take the bus heading towards Daibosatsutōge-tozanguchi, this takes 30 minutes and cost 3500 yen.
Hiking Mount Mitake
There are a couple of excellent hikes on offer here with Fuji even being visible from various viewpoints on clear days. 
The pick of the trails on offer is the hike from Mussashi Mitake-jinja to the summit of Otake-san which is a 5 hour round trip.
To get to the start point you can walk or take the cable car from Taikimoto. It's an hour one way and the cable car runs from 7:30 am to 6:30 pm. 
Getting There and Away
It takes around an hour and 45 minutes to get out here. Take the JR Chuo line from Shinjuku station to Tachikawa or Ome and then change to JR Ome line.
Get off the Ome line at Mitake and then take a bus from here to the start point at Takimoto. 
Hiking Mount Takao
A nice three and half hour (give or take) hike to the summit that offers decent views back towards Tokyo.
Probably not the most spectacular or peaceful hike around Tokyo (it can be packed on weekends). On a clear day, you can spot Fuji. 
The trail is littered with temples, shrines and tori gates. There is a cable car if you don't have the energy.
Getting There and Away
Take the Keio line out to Takaosanguchi from Shinjuku. If you have a JR pass you can head out via the JR Chuo line to Takao and then change onto the Keio line and get off at Takaosanguchi.
The journey times are similar and since the non-JR option costs 370 yen it's probably not worth activating your JR pass for this.
Of this hikes mentioned this is the closest to Tokyo and the easiest to get to. 
Hike Myojingatake 
This lovely hike down in Hakone offers amazing views of Fuji if the if it's not cloudy.
The trail is tough in some parts and you should budget between 4 and 6 hours depending on weather, pace and fitness. 
This could be a good option if you are using one of the multi-day Hakone rail passes and looking for great day tours from Tokyo.
Getting There and Away
You will need to head to Gora station on Hakone Tozan railway. The trail then starts from here. 
Izu Peninsula
If you fancy a little more freedom for your day trips out of Tokyo, you could consider a road trip down to the Izu Peninsula south of the city.
It is popular with Tokyo-ites on weekends and holidays. The western side offers great views of Fuji when the weather cooperates. 
What is There to See and Do?
This is rarely visited by tourists and it covers a huge area. There are some lovely hot spring areas offering superb onsens.
In addition, there are some gorgeous beaches where you can bum around in the sun. This helps to cement its reputation as a great place to relax. 
The peninsula is home to some gorgeous beaches and funky laid back towns that are well worth exploring.
Obviously if exploring is on your agenda then hiring a car is your best bet.
However, if hiring a car isn't an option then it is possible to get around by train, you just don't have the same level of freedom.
Since this covers such a large area there is no shortage of things to see and do.
The Jogasaki and Irozaki coasts of some fantastic views and Shorehama and Dogashima offer some lovely beaches.
Shuzenji, Ito and Arami offer some amazing onsens and for those that like hiking Kawazu Nanadaru, the seven waterfalls in the mountains above Kawazu, offer some lovely trails.
There's certainly enough to keep you busy here for a day or more if you choose!  
Getting There and Away
There is a rail pass available but depending on where you're going it may be more cost-effective to purchase tickets separately.
Utilise the amazing app Hyperdia to help you do your research. 
However, if you want some freedom then renting a car is a great option. Day rentals are common in Japan, but you will need your countries driving licence AND an International Drivers Permit (IDP).
Bonus Multi-Day Trip: Nikko 
Nikko is famous for temples and onsens. It's a bit too far from Tokyo to do as a day trip so most people will do it as a 2 or 4-day visit depending on which rail pass they decide to use.
What is There to See and Do? 
Central Nikko is a Unesco World Heritage Site which is home to some truly outstanding temples.
Further afield there are some amazing hiking options around Lake Chuzenji and numerous onsens.
If temples are your thing then Central Nikko is the place to start. From Tobu Nikko station you can take a bus that is covered by the Tobu Nikko pass up to the World Heritage area.
Here you can explore temples at your leisure.
The area around the Toshogu shrine can get particularly busy. The further away you get from here the quieter it gets, with Taiyuin-byo being particularly lovely. 
If you're looking at heading further afield Lake Chuzen-ji is a great change of pace. There a numerous hiking trails, ropeways and boats to help you get the most out of this gorgeous area.  
Check out this other article I produced on what to see and do in Nikko.
Accommodation 
This area is famous for its onsen hotels and resorts. These are some of the more expensive accommodation options in Japan.
Very often prices on sites like Agoda, Booking.com and Hotels.com can be eye-watering.
Your best option is to check out the Japanese hotel site Rakuten. Sometimes you can find some incredible bargains. 
More often than not these hotels will have an option to include breakfast and dinner.
Also, there is usually an additional onsen fee that will be paid upon check out. However it's usually a small amount of a few hundred yen per person.
Kinugawa Onsen is the most accessible onsen area as it's included on the most basic rail pass.
This area is littered with some gorgeous onsens. Further than that, you will probably need to pay for transport as your rail pass may not cover it, however, these onsets may be slightly cheaper.  
Getting There and Away
The best way to get there is from Asakusa station in Tokyo. Here you can buy a Nikko Tobu pass (follow the signs for the Tobu line or Tobu Asakusa). 
There are a variety of passes that are either 2 or 4 days in length and will cover different areas meaning it is possible to customise your trip to your needs and wants.
Odeo Onsen
Very loosely fitting the definition of a "day trip from Tokyo" as it's only down in Tokyo Bay.
However, this huge onsen is a fantastic way to spend the day.
What is There to See and Do?
If you love onsens then this is the place for you. This huge complex in Tokyo Bay can best be described as an onsen theme park.
Inside you will find restaurants, relaxation rooms, massages, performances and fair ground stalls. 
At the entrance, you need to remove your shoes and select your Yakuta. They will give you a fob with your locker number on it.
You also use this fob to purchase anything inside which you then pay for when you exit. 
Remember to wear your underwear under your Yakuta, otherwise it could be rather embarrassing. 
If you're curious about what an onsen is and why it's so popular then this is a pretty awesome place to find out more. 
Getting There and Away
This huge onsen complex is actually located in the south of Tokyo. Take the Tokyo metro out to Telecom Centre and from there it's a 5-minute walk.
Yokohama
Japan's second-largest city is home to 3 million people and is only 30 minutes from Tokyo by train.
It certainly has an appeal that helps it escape its much bigger brother to the north. 
READ MORE: Check out our list of the best things to do in Yokohama
What is There to See and Do?
Minato Mirai is a huge redevelopment of Yokohama's shipping docks. The area is full of bars, restaurants, arcades and fairground rides all connected by a series of promenades. 
Yokohama is also home to Ramen and Cup Noodle museums for those with a taste for the quirky and the Kirin beer factory if you fancy sampling some of Japan's most popular beer. 
For those in the mood for something more cultured, the Yokohama Port Museum and Yokohama Museum of Art await.
Additionally there is the lovely Sankeien garden to explore. 
Getting There and Away
There are a number of different railway companies that run between Tokyo and Yokohama. Check them out on the Japan Guide site.
Insider Tip – Rail Passes
Japan's amazing rail network is the envy of the world. Delays are rare, carriages are spotless and you can get almost anywhere. 
Day trips from Tokyo are made easier and more cost-effective by the rail passes on offer. The hard part comes when deciding which passes to use.  
In this article, there will be a number of different rail passes mentioned. Some are variants of Japans famous JR pass and others are passes on privately run rail networks, most notably down to Kamakura and up to Nikko.
For information on ALL of the rail passes available in Japan check out this excellent article by japanguide.com.
This is a great way to research what is going to be the best option.
Do be aware that rail passes that take in more than one place usually cover only one return trip to Tokyo.
So for example, you couldn't head to place 'A' from Tokyo, head back to Tokyo that night and then head to place 'B' the following morning on the same rail pass.
Often these sorts of rail passes cover local transport including buses and trains in the passes local areas.
The article above can give you all the information you need.