If you've been dreaming of a Colorado elopement, we have you covered. 
With lush forests, turquoise green waters, and the massive rocky mountains, it's no wonder you want to elope in Colorado. 
PSSST. Your travel medical insurance can now cover COVID-19!
If you grab SafetyWing Nomad Insurance, it'll be covered just like other illnesses. I've been using it since 2019 and I can assure you it's the perfect solution for nomads like you and me.
Did we mention you can conduct the wedding yourself? Yup, no officiant or witnesses are needed here. 
While this can be an easy and stress-free process, you have to make sure you are following the right directions. Read on for an inclusive guide on how to elope in Colorado.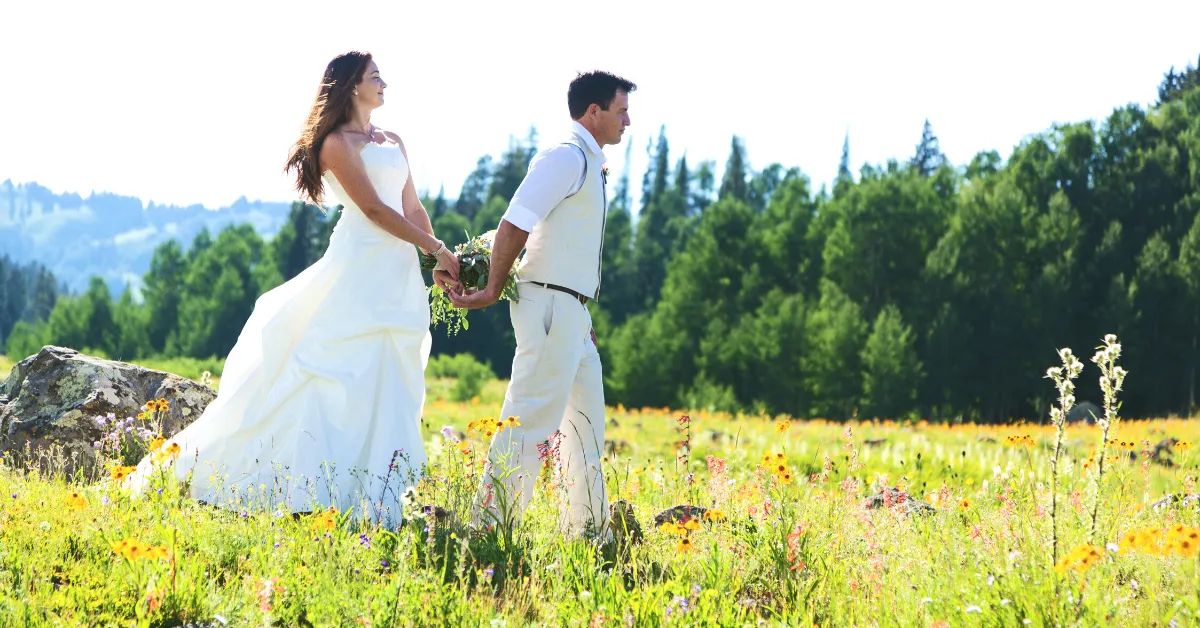 Best Places To Elope In Colorado
With its vast resorts, ski lodges, and epic slopes, eloping in Colorado can be great at any time of year. 
While this is the perfect place for a winter wonderland elopement, we can't forget about the changing of the colors in autumn and wildflowers in full bloom during the summer. 
Each season will allow you to experience the beautiful state of Colorado differently. 
When choosing the destination, it is important to consider the season as it may change the accessibility. 
When deciding where to elope in Colorado, it's best to keep a few things in mind. 
What kind of scenery do you want?

What kind of environment do you want?  

Will it be accessible to all guests? 
Specific locations will require you to hike or take a gondola to reach your final destination. If you plan to have guests with you, you'll want to ensure this journey is obtainable for them. 
Now that you have a better idea of what you looking for let's check out some of the best places to elope in Colorado. 
1. The San Juan Mountains
Calling all adventure enthusiasts. Escape day-to-day life and head out to the rugged mountain range, where you'll be immersed in the beauty of nature.
Say I do among open meadows and fields of wildflowers. 
Lace up your hiking shoes and enjoy a sunrise elopement at the iconic Ice Lake Basin. This 8.3-mile (13.3 km) hike (round trip) takes an average of four hours to complete. 
As you'll pass by stunning turquoise blue lakes, an array of waterfalls, the old-growth forest, and carpets of wildflowers, you may want to account for additional time for pit stops and photoshoots, of course. 
The basin is filled with ice blue water and surrounded by several breathtaking peaks. Another great thing about this destination is you won't need a permit for your photography. 
As this trial has gained popularity throughout the years, you will rarely be completely alone. 
The area has also slightly suffered from increased traffic due to trash being left behind and fire scars. If you plan to tie the knot, take all of your waste and follow the "leave no trace" policy. 
Check out the below recommendations if you're looking for accommodation or a place to hold a small reception. 
The Black Diamond Lodge 

Purgatory Resort 

The Elevation Hotel and Spa 

Mountain Lodge Telluride

Fairmont Heritage Place, Franz Klammer Lodge

The Hotel Telluride
2. Aspen
Aspen is a year-round destination located within the Rocky Mountains. 
While the sights are something to see at any time of the year, you'll be able to watch the beautiful color transformations in the Fall (September and October). 
With four mountains, including Snowmass, Aspen Mountain, Aspen Highlands, and Buttermilk Mountain, you'll have plenty of awe-inspiring views to choose from. 
Of course, we can't forget to mention the food here. Dive into an explosion of culinary brilliance once you've finished your adventure and said your I do's. 
Some of the best places to elope in Aspen include:
Independence Pass 

Maroon Bells Amphitheater 

Crater Lake
Looking For A Romantic Stay?
We recommend this hotel: W Aspen.
3. Vail
Vail is a small town with a big character. It's hard to pass by with a stunning view of the gore range and a long list of events throughout the year. 
While it has some epic trails, you can stay behind and relax in a 5-star resort, walk the town or treat yourself to something new from the array of stores. 
If this sounds like the perfect place for your wedding adventure, check out some of the below locations: 
Vail wedding deck 

Antlers at

Game Greek 

White River National Forest
Looking For A Romantic Stay?
We recommend this hotel: The Sebastian.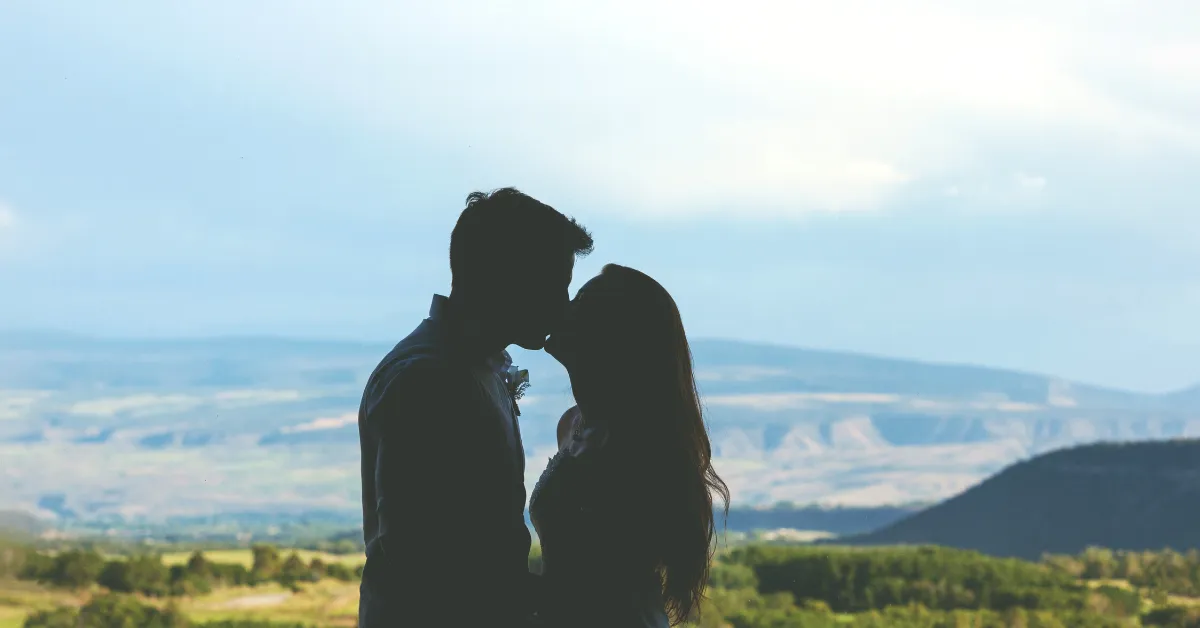 4. Breckenridge
More commonly known as Breck to the locals, this ski town is filled with notable slopes, dozens of hiking trails, and eye-catching wildflowers. 
As it's only a two-hour drive from the Denver airport, it's an easy day trip and a convenient location to reach. 
Don't forget to check out Breckenridge National Historic District and learn about the area's rich gold mining history. 
Start your new life journey among open vistas or colorfully painted buildings from the 1880s. 
Some fantastic places to elope in Breckenridge include: 
Sapphire Point Overlook 

The Lodge at Breckenridge 

Lake Dillon Marina Park Pavilion 

Rivertree Lodge
Looking For A Romantic Stay?
We recommend this hotel: Gravity Haus.
5. Rocky Mountain National Park
Become humbled by the jaw-dropping peaks and massive formations. The Rocky Mountain National park is a popular destination for travelers and locals alike. 
You'll have your choice of sweeping mountain views in the center of the excitement or a more secluded elopement in a meadow of wildflowers. Let's not forget about the beloved wildlife that you may catch a glimpse of. 
The national park is home to bighorn sheep, elk, mule deer, eagles, hawks, and much more. 
Because of its vast offerings, it has become one of the more popular places to elope in colorado. 
Check out some of our favorite locations to have your ceremony. 
Hidden Valley

Lily Lake 

Moraine Park amphitheater 

Copeland Lake
6. Lake Isabelle
Lush forests, natural wildlife, and glacial valleys are just a few reasons to head into the woods and hike to beautiful Lake Isabelle. 
After your vows are complete, jump in a kayak or on a paddleboard and let the adventure begin. 
If you decide to go with Lake Isabelle, you'll want to make this a summer elopement. You can still access this point during the other seasons, but you won't be able to witness Lake Isabell at its peak.
The lake is partially drained in mid-August. To avoid some of the foot traffic and crowded parking, it's best to opt for a sunrise wedding.
How To Elope In Colorado
The marriage laws in Colorado have made it tremendously easy to elope here. Colorado is one of the few states where you can have a self solemnizing marriage, meaning no officiant is required to conduct your wedding. 
You and your partner are free to orchestrate your wedding however you see fit. Whether you would like witnesses or not is entirely up to you. 
With no officiant or witness needed, you can have an intimate ceremony with your soulmate and the simple sounds of nature echoing in the background. 
If you intend to solemnize your marriage, you will be solely responsible for acquiring, completing, and returning your marriage license to the appropriate county office in which you attend to elope in. 
How To Obtain A Marriage License
The process remains pretty simple. To receive a marriage license in Colorado, you will need the following:
Legal identification (driver's license or passport)

Social Security Number (for US citizens)

Certified copies of your birth certificate (for foreigners)

Passport with certified English translation (for foreigners)
You can submit your marriage application and make a follow-up meeting online. This meeting can also be attended virtually; however, both you and your partner must be in Colorado and physically together. 
If all goes well, you will receive your license in the mail. The only issue here is Colorado will only mail the license within the state.
If you're coming from out of state or outside of the country you should contact the recording office in the county you plan to marry. The total cost of the marriage license will be $30.00. 
Once you receive the marriage license, get ready to tie the knot. You will have 35 days to make your marriage official before the license becomes null. 
If you don't intend to have an ordained officiant, you will be responsible for signing and returning the document to the appropriate county office.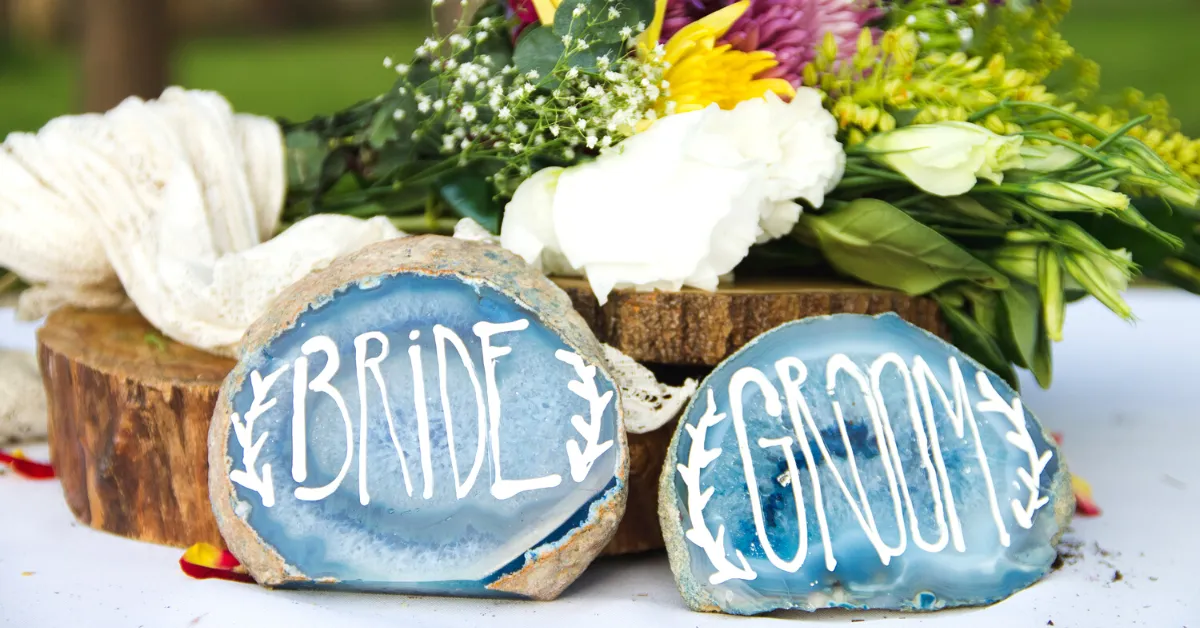 What To Know About Location Permits
The good news, there is a wide range of stunning locations that do not require a location permit. Unfortunately, that is not the case for every destination. 
Location permits can vary based on the town, city, specific location within a state park, and based upon your unique situation. 
Some places that will require a permit include: 
Sapphire Point Overlook  

Rocky Mountain National Park 

Lake Isabelle (situation dependent)

Maroon Bells

San Juan Mountains (situation dependent)
Plan in advance as some locations have a permit application limit and maybe already booked a year out.
Requirements For Foreigners
If you're not a US citizen, you will want to check with the local county clerk or marriage official in the city you plan to elope in to see what documentation is necessary. You should also double-check your own country's rules to ensure this marriage will be recognized when you return home. 
You will need all of the documentation mentioned above. If any of these documents appear in another language, you must have a certified English translation. 
Colorado Elopement Packages
Leave the permits, paperwork, and planning to someone else. Colorado has countless wedding planners ready to help at the drop of a hat. 
Simply Eloped is one of the many agencies that can make your dreams come to life. Their packages start at $599 and increase upon inclusion. 
A comprehensive package would start around $4,000 and include things such as:
Wedding officiant 

Dedicated wedding planner 

Hair and makeup for the bride 

Bouquet 

Photographer 

Location permit 
Whether you're searching for simplicity or someone to do it all, you'll be sure to find a package that fits your needs.
Final Thoughts On Eloping In Colorado
With various locations, activities, and jaw-dropping views, Colorado is a great place to elope for any couple. Whether you're looking for a summer ceremony or a Winterland, Colorado can accommodate your needs. 
Just obtain the proper licensing and permits when planning your special day.
Heading to Colorado soon? Read one of the following guides: