Guide to amazing eco-friendly Christmas gifts for all the environmentally conscience people in your life.
The days are getting shorter, and we are all hunkering down in cozy homes for the winter.
But navigating through snow and rain isn't the only difficult bit about this time of year.
Christmas is approaching, and that means that you need to start finding sustainable Christmas gifts to give to your expecting loved ones.
This sustainable gift guide provides 15 examples of cool eco-friendly gifts that you can impress your family with while keeping ethical.
Across these 15 eco-friendly Christmas gifts, you are sure to find something for everyone.
Our sustainable gifts for Christmas range from sustainable jewelry brands, to clothing, to sports equipment.
Thanks to affiliate links, I pay my bills. If you make a purchase through them, I may receive a small commission at no cost to you. As an Amazon Associate I earn from qualifying purchases. All opinions are always mine. Merci!
Overview: The Top 5 Places to Buy Sustainable Christmas Gifts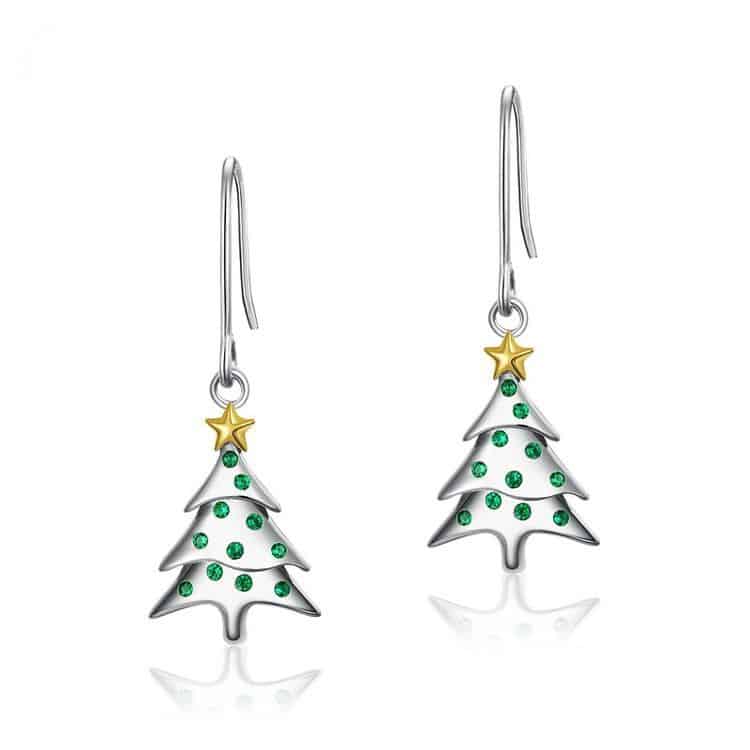 We begin our list of sustainable Christmas ideas with Karativa: a personalized jewelry company.
On their website, you can find scores of sustainable Christmas gifts that will be excellent for your loved ones.
Karativa offers stylish jewelry that can be worn year-round, or Christmas-themed items perfect for holiday get-togethers.
They sell rings, necklaces, birthstones, and earrings, many of which can be customized to make them even more meaningful.
If you know someone who particularly loves jewelry and already has a collection, then the Karativa music rose flower jewelry box is perfect.
They will be able to put an item of jewelry in the box, and you can specify which song you would like to play when it is opened.
This interactive gift will make the ritual of putting jewelry on feel even better.
Alternatively, you could place other environmentally-friendly Christmas gifts inside your Karativa box, making it extra sustainable.
15% discount with code "PAULINA15"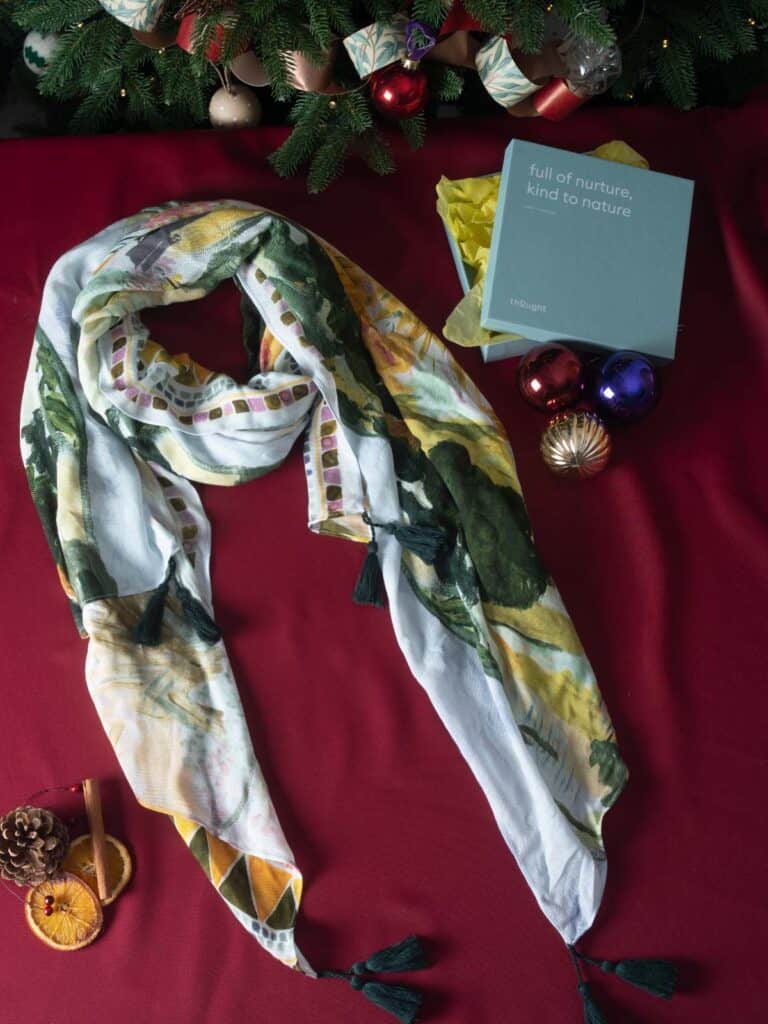 Thought is amongst the best vegan clothing brands making them perfect for your eco-conscious loved ones.
Their collection is an oasis of eco-friendly Christmas gift ideas, with all their products being made with the planet and people in mind.
A great place to start with Thought this Christmas season is their Hansel Lensing Ecovery scarf, which is made from a wood-derived fabric.
The wood used is FSC certified and generates 50% fewer emissions than standard materials, and the result is a silky soft, and guilt-free scarf.
Not only are these sustainable Christmas presents comfortable and environmentally conscious, but it is also stylish, having been designed as the perfect accessory for any outfit.
The patterns on all Thought scarves are made with unique and beautiful vibrant colors.
Everybody has received socks for Christmas, and many people are disappointed to receive an unimaginative gift.
Conscious Step offers a more exciting alternative, and their socks are perfect gifts for sustainability lovers. 
These eco Christmas gifts are sustainable because of the materials used: 75% organic cotton and 23% recycled polyester.
And every sock Conscious Step sell is organic, vegan, and fair trade.
Moreover, they are backed by the 1% For the Planet campaign, which promotes businesses that genuinely help the environment rather than Greenwashing. 
The Conscious Step Socks for a Cause range is the best option for the ultimate sustainable Christmas gift.
Every design is dedicated to a different cause, and a substantial proportion of the profits are donated to charities in that sector.
These Socks for a Cause can revitalize sock gifts if you buy ones that relate to a cause your loved one is particularly passionate about.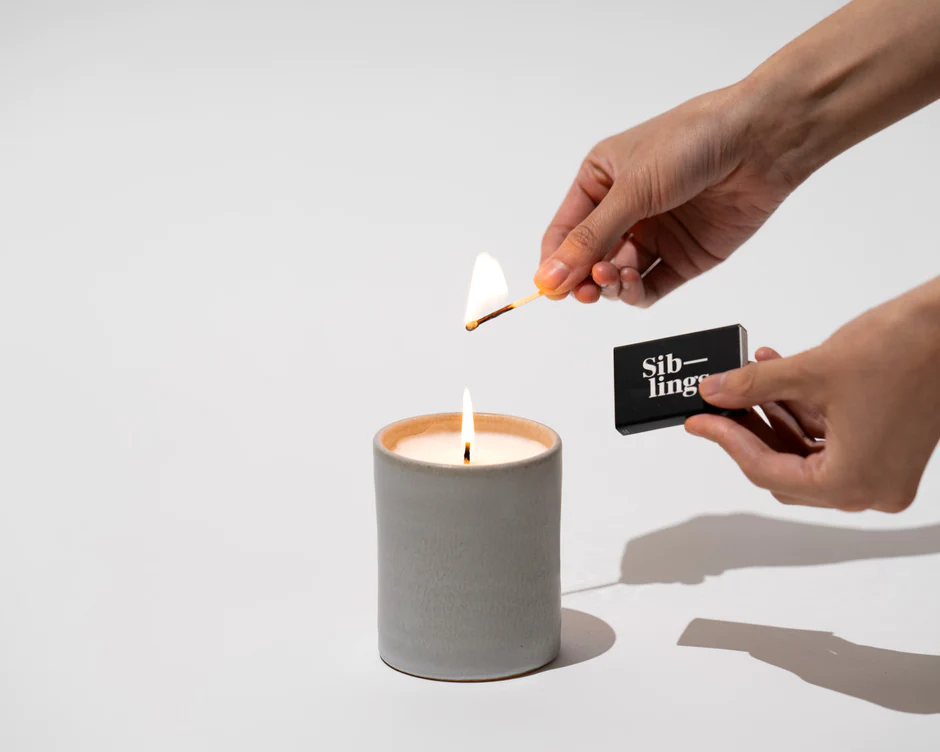 Candles are another classic Christmas gift, but they are not often sustainable Christmas gifts.
This is because candles often use ecologically damaging waxes and release toxic fragrances into your home. 
And that's where Siblings comes in by bucking this trend with their Festive Candles range.
Their products are made with a coconut-based wax blend, and they ensure that all fragrances are non-toxic and contain essential oils. 
The Sun Kissed Citrus Pack is my favorite and will give your loved one the most versatility available for the scents they can choose.
The pack has three candles in it, all of which burn for around 60 hours.
The scents are "Tangerine, Jasmine, and Vetiver", "Ginger, Pink Grapefruit", and "Tonka Wood, and Yuzu Shizo Leaf, and Black Tea".
But there are many candle options available at Siblings no matter your smell preferences!
These candles are somewhat DIY, so you will need to have your own eco-friendly container on hand (don't worry full instructions are included).
Alternatively, you can buy one of the Sibling starter packs, which comes with a brass holder you can reuse again and again!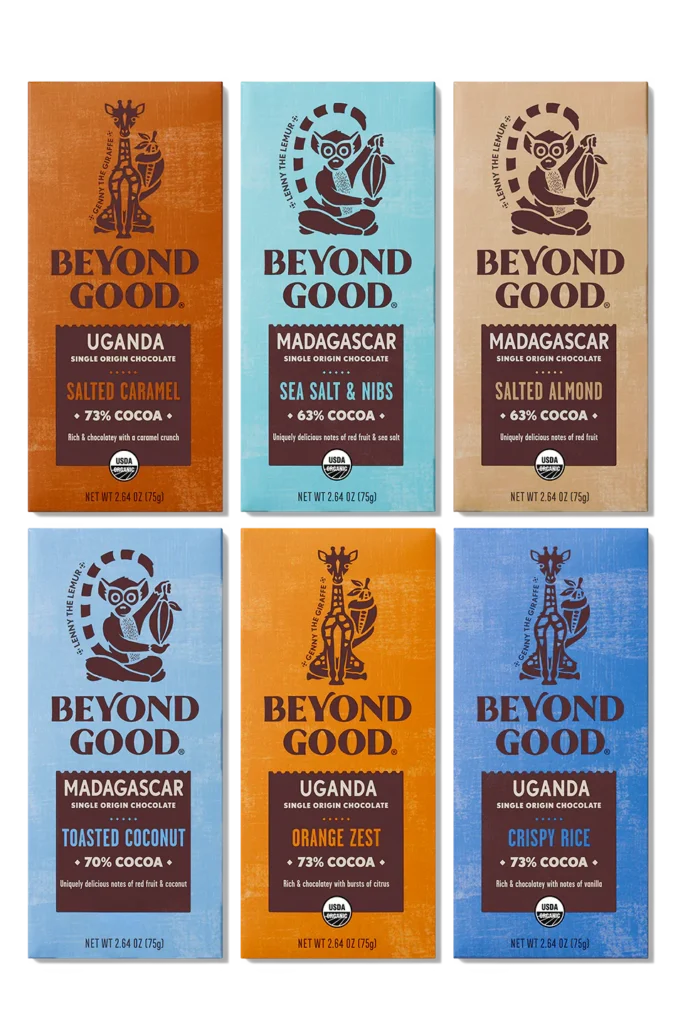 Everybody loves receiving tasty treats at Christmas!
Even adults love receiving chocolate, especially if the chocolate has sophisticated flavors and sustainable credentials. 
Beyond Good chocolates are fantastic eco-friendly secret Santa gifts as they are small and affordable.
And because they're made with single-sourced chocolate you can feel good about your purchase.
This means that Beyond Good have been able to source the chocolate from a single supplier who they can guarantee to follow sustainable practices.
While all their chocolate is delicious, I personally love their salted caramel chocolate bar.
Salted caramel has been a trend that shows no signs of disappearing, and this chocolate bar leads the bunch for high-quality salted caramel chocolate.
The receiver is sure to love the sweet crunch of the salted caramel alongside the rich smoothness of the dark chocolate base.
But Beyond Good offers a range of flavors for any chocolate lover in your life!
Sports fans need to be able to drink while they exercise.
However, the harmful impacts of plasticizers, BPA, and other harmful chemicals are making many people more cautious about the water bottles that they drink from.
If you have any loved ones who love hiking, going to the gym, or just are in need of an eco-friendly water bottle, Super Sparrow is my go-to.
Super Sparrow's sports water bottle is a cool eco-friendly gift because it is entirely BPA and toxin-free.
Therefore, your loved one won't be harmed by drinking from the bottle, and they will not have to worry about causing environmental problems if they accidentally drop it on a run or hike.
Super Sparrow are my favorite water bottles for hiking, and I never go without mine.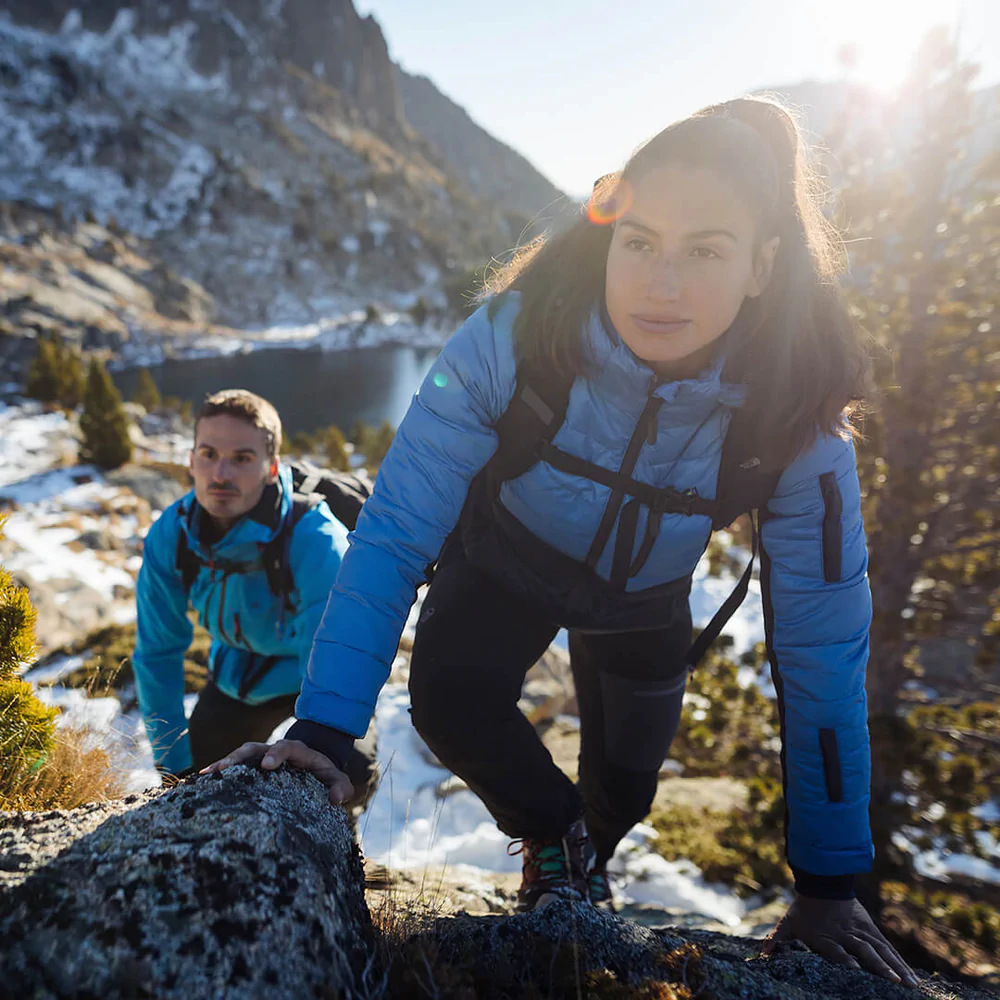 If your loved one wants sustainable winter coats for Christmas, Apricoat is the perfect place to shop.
Apricoat sell men's and women's clothing, from lightweight jackets, to heavy-duty winter coats. All of these items are available in a range of colors and sizes. 
A particularly rugged yet ecologically sustainable option is the EcoDown Jacket.
Although the jacket is synthetic, it uses entirely recycled materials, and the exterior is made from breathable polyester fabric.
Inside, the synthetic down has been made from recycled plastic bottles.
This is an even more sustainable option than natural down, and it dries faster.
Moreover, this Apricoat jacket is immensely practical.
It has been built for the harshest conditions, and has 11 pockets that can be filled with survival equipment for long hikes.
All these factors combine to make Apricoat, and its range of sustainable coats, one of the best eco-Christmas gifts.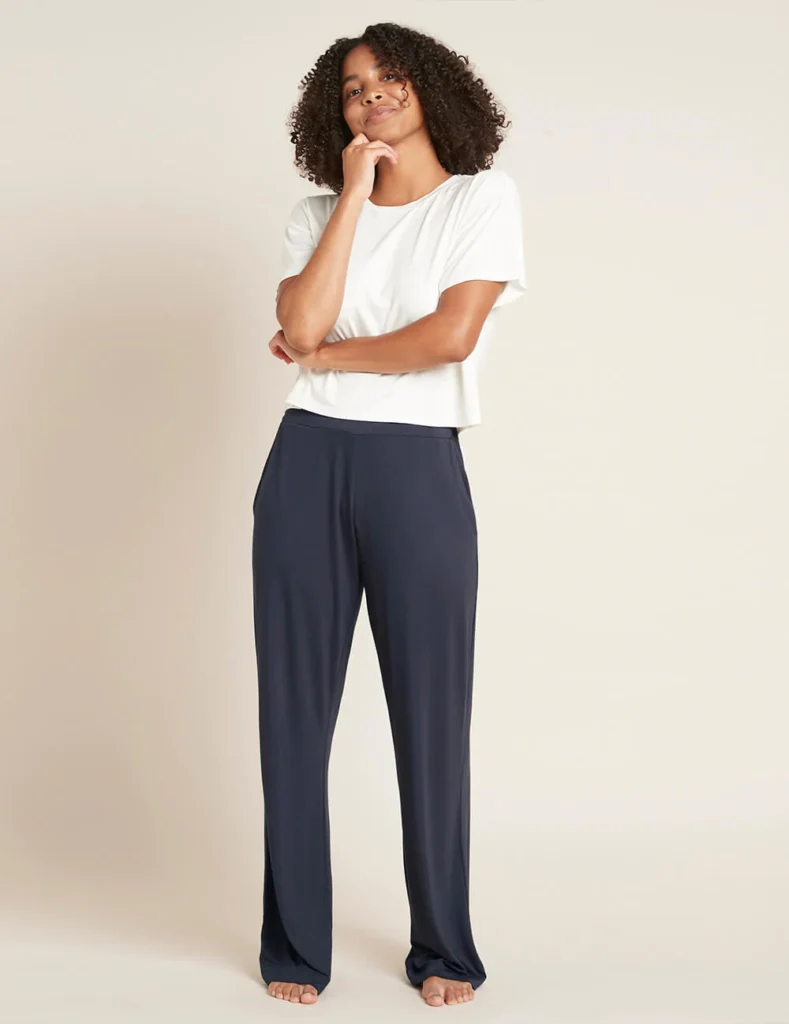 People love loungewear because it is perfect for relaxing without being as cumbersome as traditional pajamas.
And this year, you can give the gift of comfort with these environmental Christmas gifts from BOODY!
BOODY is one of the best bamboo clothing brands and is renowned for its comfy, sustainable loungewear.
And choosing bamboo-based loungewear is one of the best eco gifts if you know someone who loves to get comfy and chill.
The Downtime Crop Tee is one of my favorite BOODY loungewear options.
It is available from XS to XL and has three colors available: Storm, Natural White, and Black.
All of these options are made from natural bamboo fiber known for being silky smooth and lacking the spurs in other fabrics, which can irritate their skin.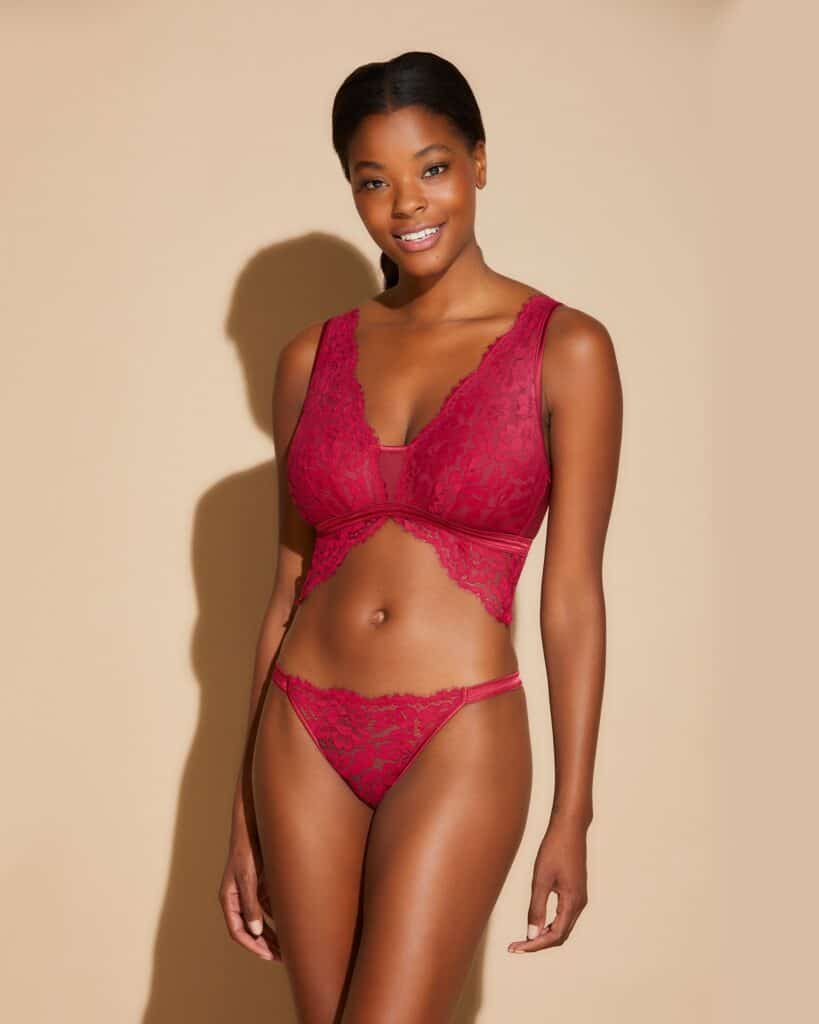 Cosabella is rightly known as one of the most exciting sustainable underwear brands.
Shopping from brands like these is vital as fast fashion continues to damage our planet.
What's more, your loved one will feel great wearing these handcrafted clothes from one of the best sustainable underwear brands.
All Cosabella designs stem from the stylish lingerie fashions of Italy, making them extra fabulous.
The Never Say Never bralette is Cosabella's most popular product.
Designed for comfort and style, this item is available in 45 colors and 6 body types, ranging from petite to ultra-curvy.
If you are looking for sexy sustainable Christmas gifts this holiday season, you can go wrong with Cosabella.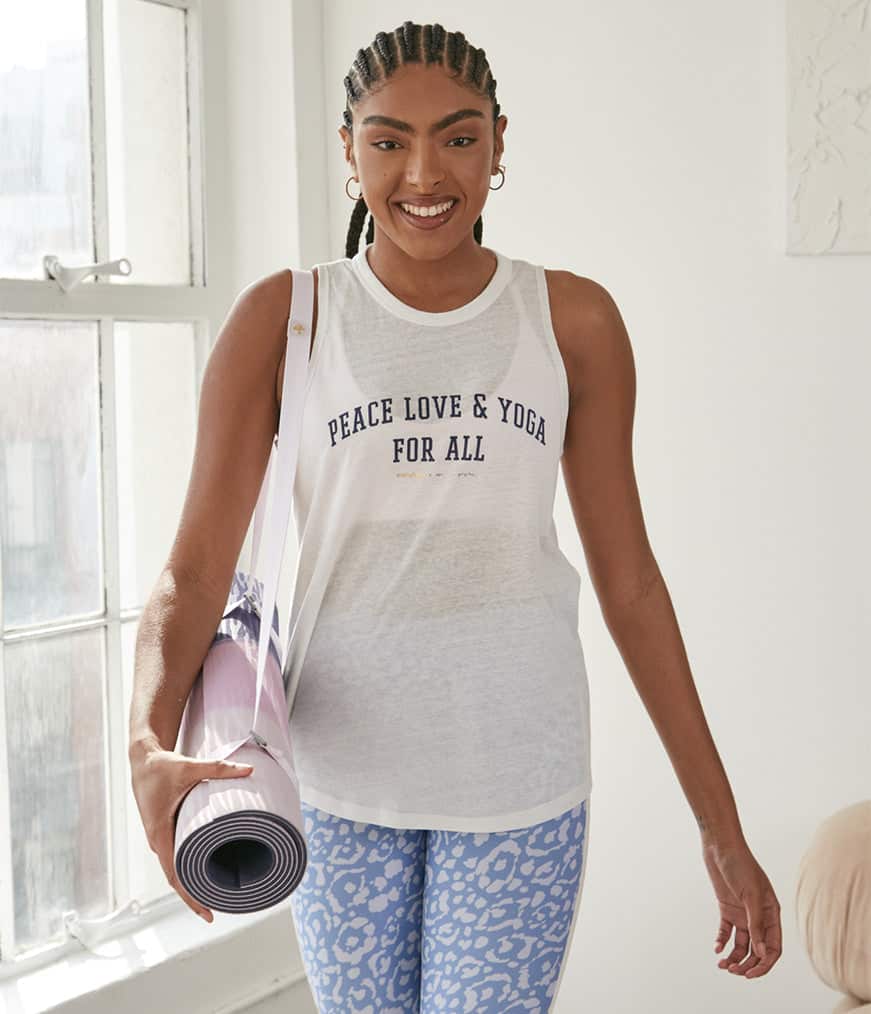 Manduka is a leading sustainable yoga clothes company that is particularly loved for its eco-friendly yoga mats and other yoga pgear.
They have united with the yoga YouTuber Yoga with Adrienne, hoping to get more of the planet involved in yoga without hurting the earth.
All Manduka products are built with both the user and the planet in mind, including their yoga mats, which use a specific form of PVC that is handcrafted emissions-free. 
These sustainable holiday gifts are perfect for friends and relatives who do yoga, or are interested in trying it out.
My top choice is the Manduka Pro Yoga Mat, which comfortable and grippy at 6 mm thick.
It is also very easy to clean after use, so there's no worry about getting it sweaty and slippery.
Manduka also sells yoga clothing, such as sustainable yoga pants, which is another great sustainable Christmas gift.
Allbirds is one of the leading sustainable shoe brands and is a company that is all too aware of the damage that shoes can do to the environment.
This is because shoes often require animal products such as leather and have a high carbon footprint.
But Allbirds challenge this norm by making sure they offset the carbon footprint from the manufacturing of their shoes and using plant-based fibers.
Tree Breezers are women's flat running shoes that make great sustainable Xmas gifts.
Made from eucalyptus fibers, this shoe is cruelty-free and has a net-zero carbon emission.
Like many Allbirds shoes it is available in a wide rage of colors and sizes.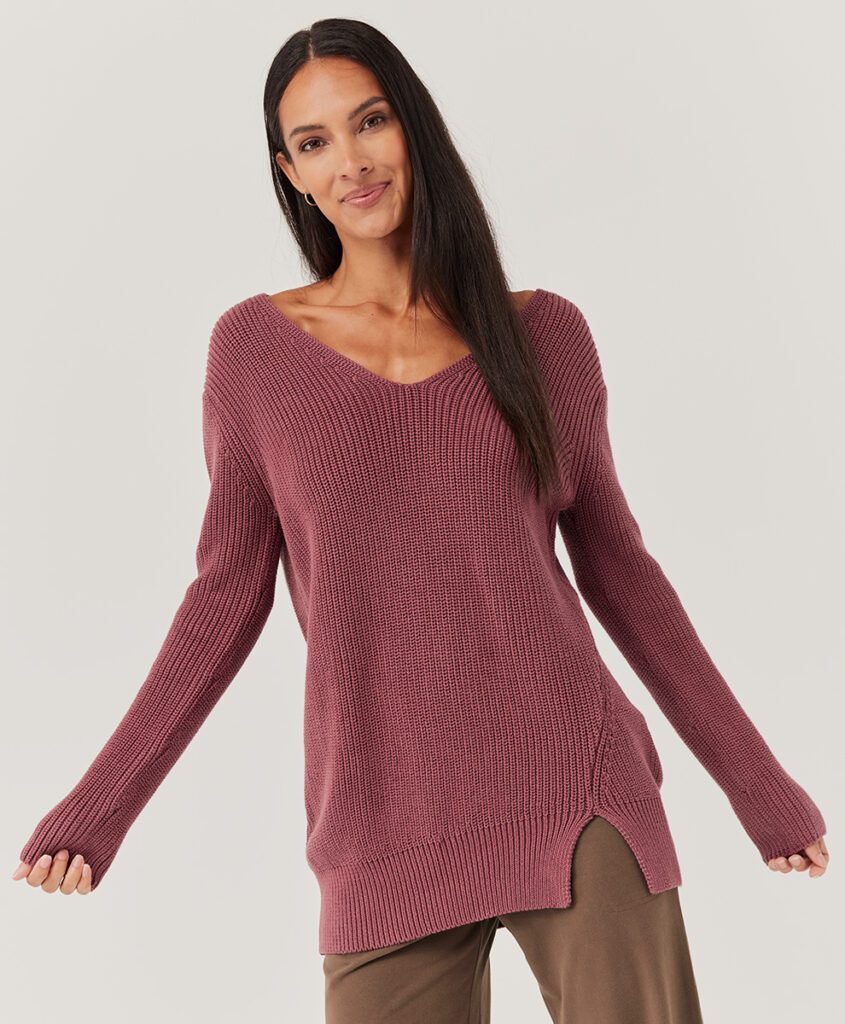 PACT is a great source of ethical Christmas gifts that will keep your loved one warm throughout the winter.
This is because PACT sells comfortable and sustainable sweaters that people can feel proud wearing. 
All of their sweaters are made from sustainable and organic materials, including organic cotton from a Fair Trade-certified factory.
Each sweater made uses 68 fewer gallons of water than normal sweaters, and PACT offsets 20lbs of carbon.
Their Honeycomb Knit Crew Sweater is a great choice when it comes to eco-friendly holiday gifts.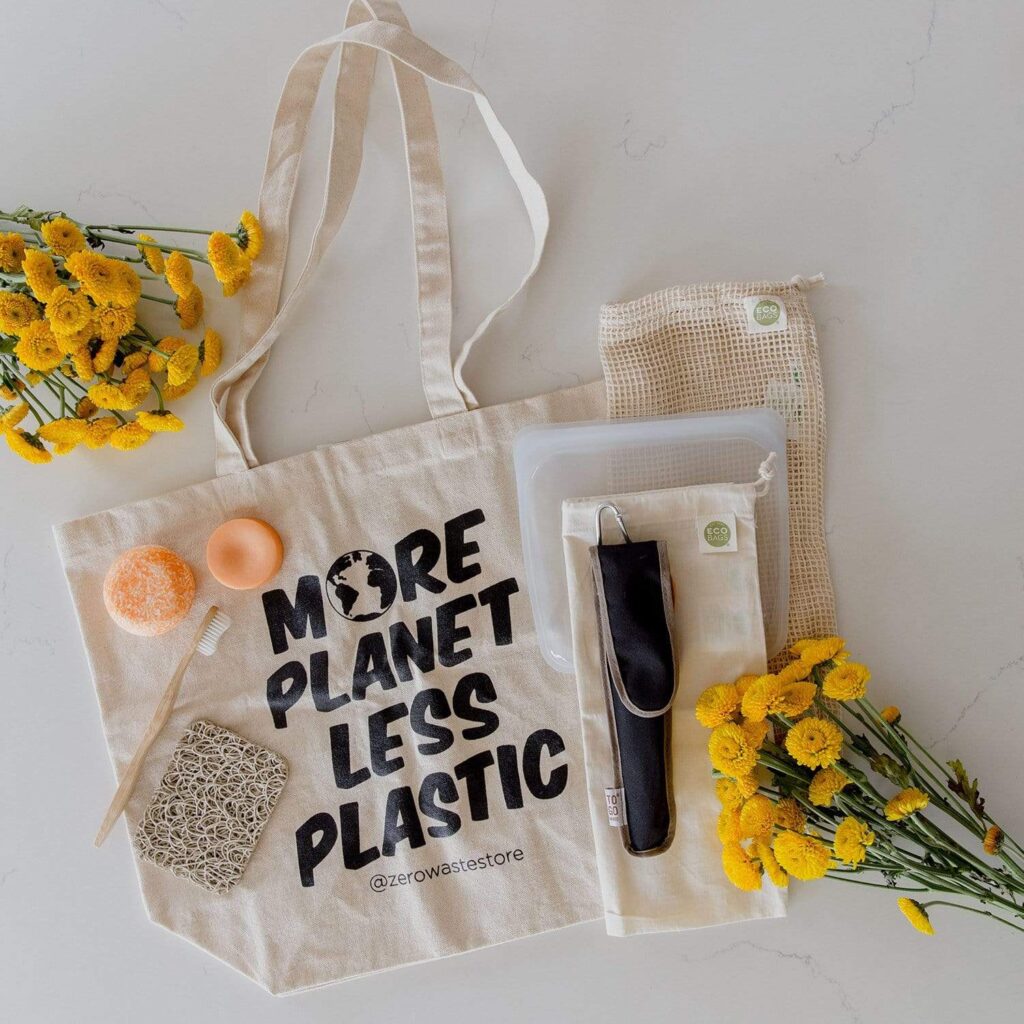 Many people struggle to practice sustainable consumption because they cannot make everyday purchases sustainable.
Gifts from the Zero Waste Store can help anyone starting their sustainability journey by showing them that it is possible to be sustainable in every part of their lives.
My favorite is the Zero Waste Starter Kit, which covers a little bit of all parts of everyday life.
However, the Zero Waste Store offers a range of kits, which can help if someone is struggling being sustainable in a particular way.
One example is their Dental Hygiene Super Kit, which aims to reduce the impact of the 1 billion plastic toothbrushes thrown away yearly.
The dental kit features bamboo toothbrushes along with many other sustainable dental products, such as vegan bamboo floss.
Busy people with lots of ideas can get through stacks of notebooks every year.
But unfortunately, the weight of all these ideas is harmful to the planet – especially rainforests.
Rocketbook can jump to the rescue, helping your family members keep having great ideas without causing much damage. 
Products like the Rocketbook Everyday Planner achieve sustainability by being reusable.
Your family member can wipe the page clean after every use so they can reuse it whenever needed.
If they're taking vital notes, they can scan the page to maintain digital copies.
A Rocketbook notebook or planner is one of the top sustainable Christmas gifts for anyone you know who loves writing down ideas on the go.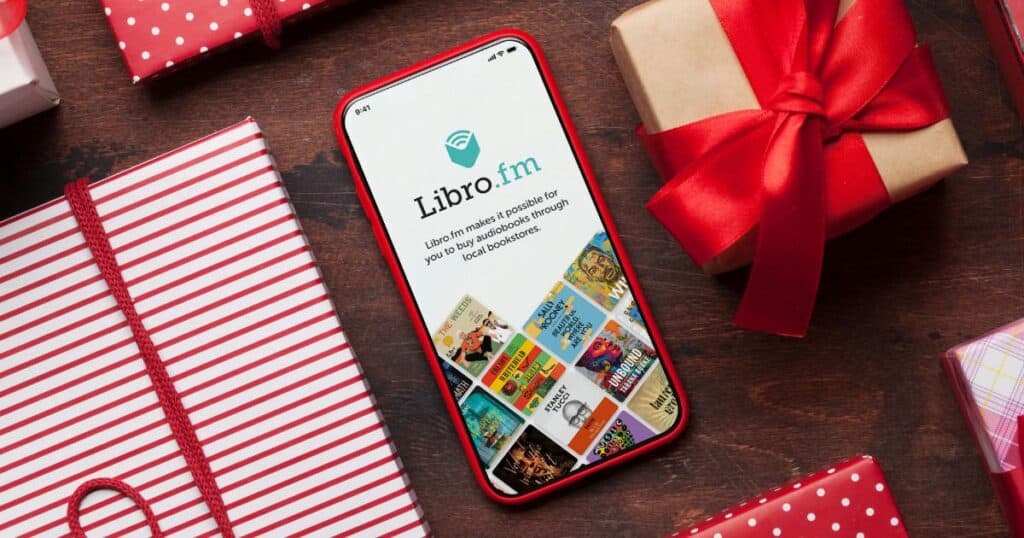 Books are another popular Christmas gift that can damage our forests, which is why gifting an audiobook instead is a good idea for a sustainable Christmas gift.
But with so many audiobook options where is the best place to start on your hunt for sustainable Christmas gifts ideas?
I recommend the Two-Credit Bundle from Libro.fm!
This bundle allows your family member to try out audiobooks for the first time by choosing two audiobooks that they would like to listen to.
But the reason that I love Libro.fm over any other service is that they support local, indie bookstores.
So each time your loved one redeems a credit, their local bookstore will be supported thanks to Libro.fm.
---
Short FAQ about Sustainable Christmas Gifts
What do you buy an eco-friendly person for Christmas?
First, consider what they like and then start looking for sustainable alternatives. For example, if they love yoga, get some yoga gear from Manduka. If they have a sweet tooth, Beyond Chocolate is a fantastic choice.
What are some sustainable gifts for women for Christmas?
What are some tips for finding sustainable Christmas gifts?
Always consider the materials being used. Once you have figured out kind of gift you want to give, research sustainable brands. You can check that they are really sustainable by how transparent they are about their materials and manufacturing practices. Some things to look out for are: organic and all natural materials, processes that use less water, carbon neutral brands, and durability.
---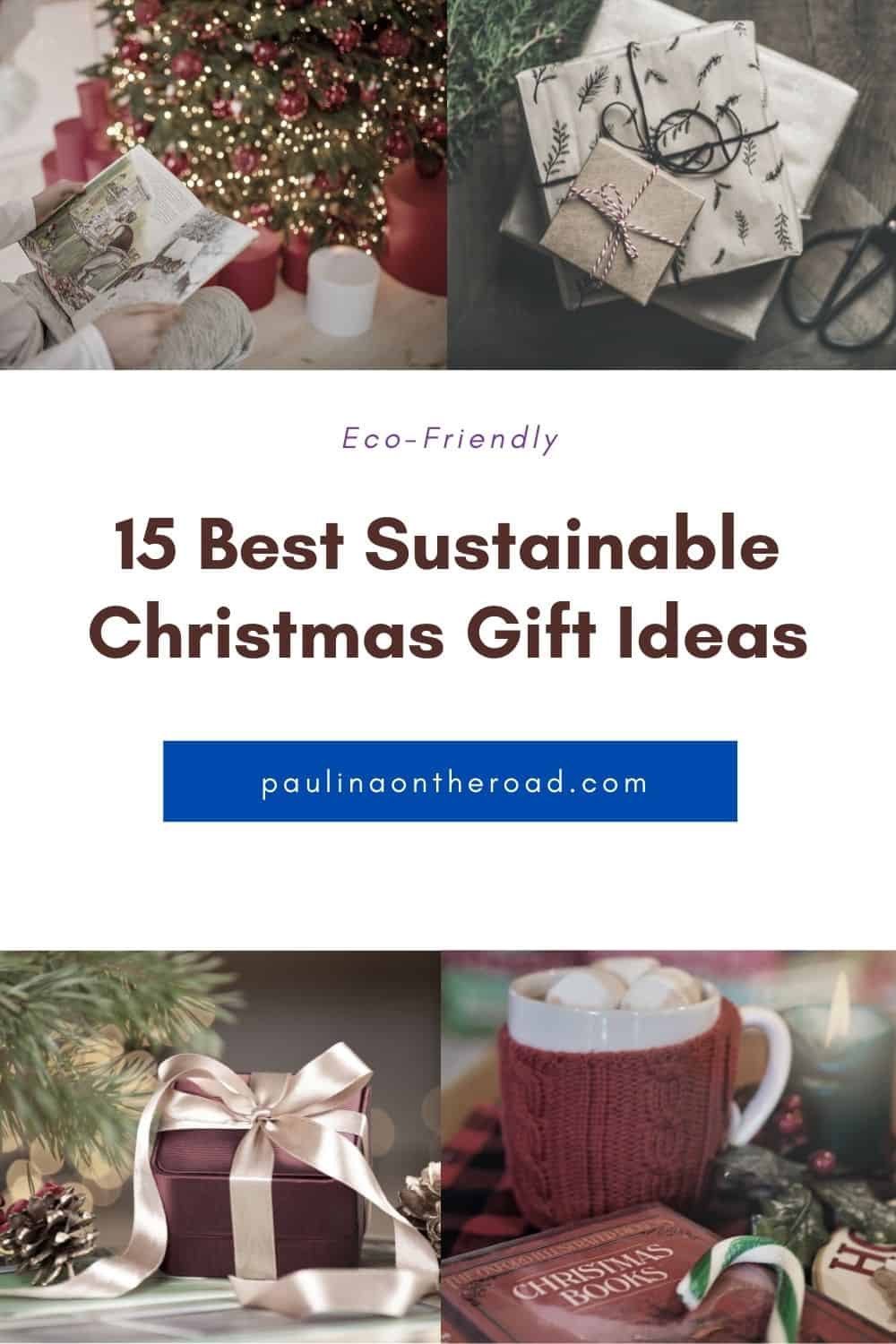 ---